If you are spending your money frivolously on natural grass or sod – Beware! Natural grass or sod lawns have NO warranty! Guarantees are NOT provided with an organic grass lawn installation. If you read the fine print most likely there is a line that states something like "We do not offer a warranty or guarantee on sod installation due to the fact that grass can go bad quickly. We do, however, guarantee to deliver and/or install farm fresh grass to each and every customer. It is the customer's responsibility to follow the instructions to keep the sod healthy and alive."
In a world of extended warranties being offered on every purchase made from computers, televisions and washing machines, not having to pay for replacements or repairs outside of abuse or natural wear is important to consumers everywhere. This demand for unquestionable quality and function ends abruptly with your natural grass lawn.
A more realistic conclusion for a completely predictable and reliable lawn is found only with synthetic grass. Synthetic grass has no tendency of greed for water unlike natural grass seed and live sod. If by chance you find a landscaper giving a guarantee on an organic lawn installation be cautious. Said guarantee would only cover work for one year if given and they may not be in business when you need to reach out for assistance.
You may ask, "Why is there such a huge difference in the warranty between synthetic turf and live grass?" It's actually very simple…
– Grass seeds exposed to extreme weather conditions such as heat or too much water fail to sprout or only germinate in sporadic areas and don't cover the entire application.
– Grass seeds that do sprout are tender. Long hot and dry spells cause the blades to curl up and die. (Forgetting to water or not watering enough – a.k.a. being too busy).
– Sod that is not watered to specification will rapidly stress and begin to die from the cut edges inward. Natural sod requires a constant demand for water to thrive.
– A drought or irrigation cease order can be detrimental to new, unestablished grass seed or sod lawns very quickly.
As a well-informed homeowner consider just how foolhardy it is to keep sinking all of your hard-earned money into organic grass that could die and turn brown without a moment's notice. Artificial lawns go through hot spells without a moment of being parched or looking unhealthy from lack of water or attention.
A Onelawn synthetic grass lawn isn't picky about wet areas, drought conditions, city irrigation cease orders, complete shade… or just about anything that happens. A Onelawn installation comes with a 20-year material and 10-year labor warranty. Why waste time looking for a faux guarantee when you have the assurance of a beautiful artificial turf lawn that will remain green and lush? We GUARANTEE it!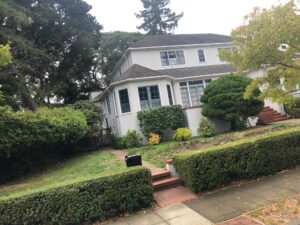 Before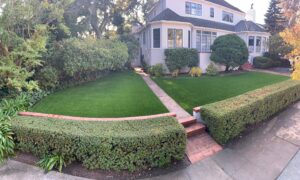 After