Synthetic Grass Lawns
Synthetic Grass Lawns
We know your lawn is important to you, that's why we strive to install the most natural-looking, longest-lasting synthetic grass lawns in the Bay Area.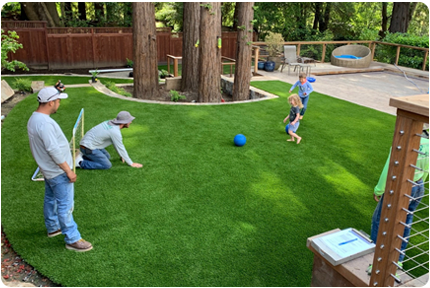 Our onelawn® installation team prides itself on providing premier synthetic turf lawn systems in the Bay.
Area. We refuse to cut corners. This includes using the best artificial turf on the market and premium installation materials. The onelawn® Surstay system looks and feels like real grass.
– Premier Synthetic Turf
– Looks & Feels Like Real Grass

An Ever-Beautiful Lawn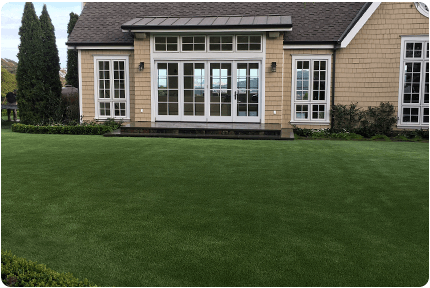 The most common reason people cite for wanting to make the change to an artificial grass lawn is that they want a lawn that looks beautiful without the need for a full-time gardener. onelawn® synthetic turf lawns provide just that. They withstand changing weather conditions and remain lush, vibrant and professionally manicured through every season.
But that's not all, there are many benefits to making the switch to onelawn!

Save Time & Money

Think about how much time and money you can save when you eliminate the mowing, trimming, watering, weeding, fertilizing, spraying, aerating and seeding of your lawn. Whew! Instead, you'll be enjoying more time with family and friends.
Learn more about the cost savings of synthetic grass lawns.

Reduce Your Water Consumption

With drought conditions affecting the bay area on a routine basis, the need to reduce water consumption is of paramount importance to our region. Outdoor water usage represents 31% of the water consumed by households each year according to the EPA – a number that can be drastically decreased with a switch to artificial grass lawns.
For the last 10 years, in an effort to cut down on water usage and save money, many Californians are making the switch to synthetic grass lawns by oneLawn.

Save the Environment

It seems odd to many people that an artificial grass lawn could be more environmentally friendly than a "natural" grass lawn, but when you look at what it takes to keep natural grass looking green, healthy and manicured, it's pretty obvious. Artificial grass lawns require …
– No pesticides
– No fertilizer
– No mowing
– No grass clippings
Learn more about the environmental benefits of artificial grass lawns

Create a Safer Space for Your Kids

With extensive experience installing playground turf for commercial applications, we can use this knowledge and experience to create a lawn that is safe and clean for your kids. Our fast-drying, anti-microbial turf solutions help keep the entire family healthier and the home cleaner. Less mud, less allergens… means more time spent together outside.

Perfect for Pets

No more brown patches from pet waste or mud tracked into the house after a rain, onelawn® pet turf drains quickly, making for immediate play and easy clean-up.

Specialty Synthetic Turf Systems
In addition to installing a wide variety of synthetic grass lawn systems, we also supply, design and install a variety of specialty synthetic turf solutions for pet and sport applications.