The San Francisco and Bay Area Artificial Grass Installation Experts
onelawn® has been at the forefront of the synthetic turf industry installing artificial grass throughout the San Francisco Bay Area since 2008.  We take pride in being one of the pioneers of this innovative technology.  From beautiful, low maintenance lawns and putting greens to modern commercial facilities, pet areas and playgrounds, we are confident that our expertise in the synthetic turf market sets us apart from the competition.
We are committed to delivering only high quality, US Made materials using the industry's best synthetic fibers, as well as the latest in artificial turf production technology. Working with one of the largest synthetic grass manufactures in America puts us above the rest.
Our experienced designers will walk you through the step-by-step process, from choosing the best artificial turf for your needs to installation methods, then followed up with our skilled and professionally trained onelawn® artificial grass installation team.
With our extensive knowledge and experience in the industry, you can trust us to deliver results that will exceed your expectations.  Our goal is to give you the peace of mind that your investment will pay off, and that you will enjoy your beautiful, low-maintenance lawn for years to come.
Areas Of Expertise
Featured Projects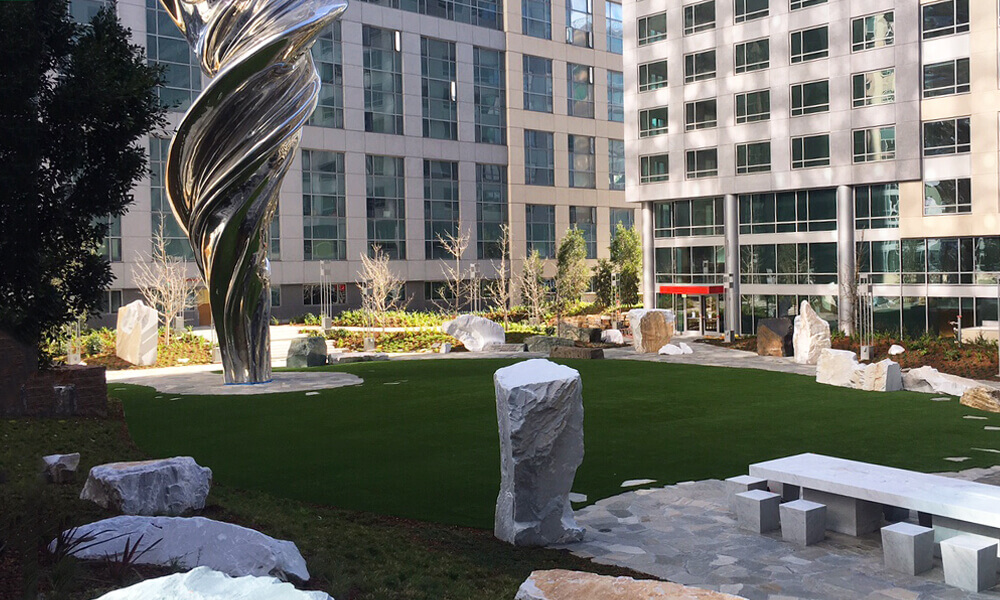 Featured Projects - 1 of 3
Beautifying Downtown San Francisco
onelawn was proud to be a part of beautifying San Francisco by supplying and installing the synthetic grass for Piazza Angelo, the public square that serves as the centerpiece of Trinity Properties' 1,900-unit, four-building complex.
View Project
Featured Projects - 2 of 3
Making Playgrounds Cleaner, Safer & More Fun
See how onelawn is using synthetic turf systems designed specifically for children's play areas to make the Bay Area's playgrounds cleaner, safer and more fun.
View Project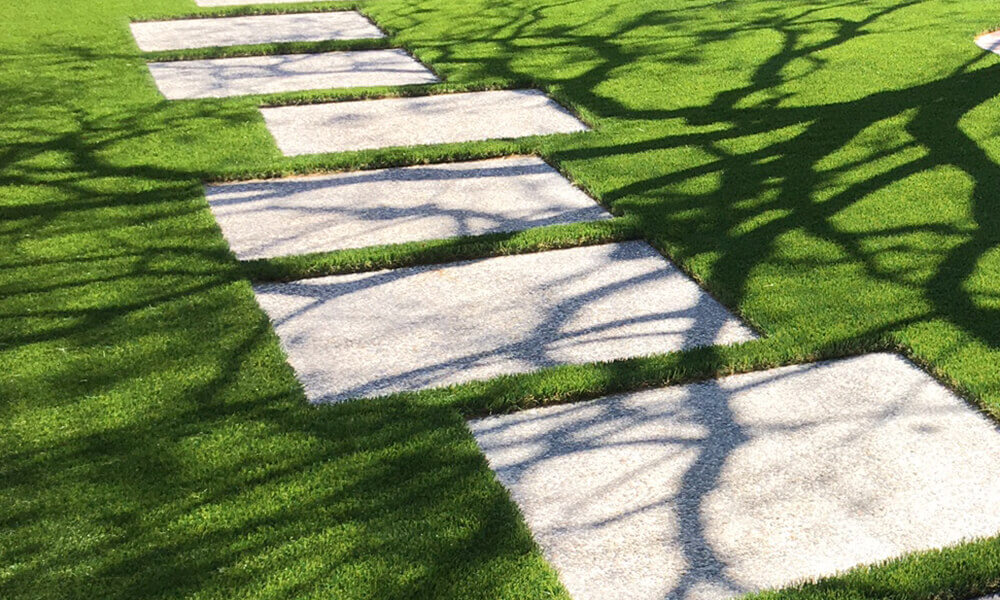 Featured Projects - 3 of 3
Transforming Bay Area Lawns
For over 10 years, we have been helping Bay Area homeowners transform their lawns with beautiful, low-maintenance synthetic grass lawns and putting greens. View our Before and After Gallery to see the transformations.
View Project
Your Perfect Solution for a Beautiful and Low-Maintenance Lifestyle
Imagine a world where your lawn always looks perfectly manicured without constant watering, mowing, or fertilizing. With onelawn®, this dream becomes a reality. As the leading artificial grass installation company serving San Francisco and the entire Bay Area, onelawn® specializes in providing top-quality synthetic grass solutions that cater to your modern lifestyle.
At onelawn®, we understand the importance of a well-maintained outdoor space for homeowners in the Bay Area. Replacing natural grass with synthetic turf can conserve water, reduce your carbon footprint, and eliminate the need for harmful pesticides and fertilizers. Our synthetic grass enhances your property's aesthetic appeal and promotes a sustainable and eco-friendly lifestyle.
Our artificial grass solutions are specifically designed to mimic the look and feel of real grass, without the hassle of traditional lawn care. With our premium synthetic turf, the days of patchy lawns, mud, and allergens are gone. Instead, you can enjoy a lush, green landscape all year round. It's no wonder that many Bay Area residents are now embracing the convenience and beauty of fake grass.
onelawn's artificial grass installation services are perfect for various applications, from residential lawns and pet areas to commercial properties and sports fields. Our expert team can transform any space into a stunning and functional outdoor oasis. Our meticulous attention to detail ensures that each installation is customized to suit your unique needs and preferences.
Aside from its practical benefits, synthetic grass encourages a more enjoyable and active lifestyle for you and your family. The low-maintenance nature of artificial turf means that you can spend more time enjoying your outdoor spaces, whether it's playing with your kids, hosting a backyard barbecue, or practicing your favorite sport.
Join the growing number of San Francisco and Bay Area residents embracing the modern lifestyle benefits synthetic grass offers. Investing in onelawn's artificial grass solutions not only improves the visual appeal of your property but also promotes a healthier and more sustainable way of living. Experience the onelawn® difference today and transform your outdoor space into the beautiful, low-maintenance oasis you've always dreamed of.
The Benefits Of Installing onelawn® Artificial Grass In The Bay Area
SAVE WATER
By opting for an artificial lawn you
can help preserve water resources
and eliminate the need to comply
with water rationing or watering
restrictions. Even in areas with
regular rainfall artificial lawns
prevent muddy patches and
standing water because of the
exceptional drainage capabilities.
This means you can enjoy a
beautiful, green lawn without
having to worry about your pets
rolling around in mud puddles or
dealing with other watering hurdles.
SAVE TIME
Another huge plus is the time
savings. With no need for
maintenance such as fertilizing or
watering, you'll have more time to
spend on other activities with family
and friends. It also means you don't
have to mow. You choose your
blade length when buying your
artificial lawn. Your lawn will
remain well-groomed for years to
come after installation. So go ahead
and forget about the lawn worries
when planning your family vacation
or taking the weekend off.
ENVIRONMENTALLY FRIENDLY
Gardening equipment that runs on
gas, such as mowers, edgers and
blowers generate a significant
amount of pollution. This is a
concern, given the large number of
people who mow their lawns every
weekend. As we work to address
climate change, it's important to
acknowledge the impact of this type
of equipment. Research has shown
that spending just an hour using a
gas-powered lawn mower can
produce nearly as much oily
pollution as driving a car 100 miles.
RECYCLABLE
One of the notable advantages of
artificial lawns is their durability and
longevity. They can last for many
years without requiring
maintenance or replacement,
freeing you from weekends of lawn
care and maintenance. When the
time eventually comes to replace
your artificial lawn, you'll be
pleased to know that it can be easily
recycled. This, along with the
significant savings in fossil fuel and
water usage, helps to further reduce
your environmental impact.