Dogs and cats know that rest is essential and certainly know how to nap. And, comfy as the pillows are on your bed, when they're outdoors in the Bay Area, pets love a nice grassy space to rest. Artificial pet turf, preferably. It's always lush and inviting, no matter the season or weather.
Pets don't really consider safety as their humans do, and every dog wants to please their people, so they'll look at you adoringly as you explain that artificial grass is safer than natural grass.
Giving your pets a place to romp and rest on the artificial grass in front of your home or in the backyard, they will really love having their very own run with artificial grass planted underfoot. It's Purrfect.  And …. it's clean.
Your cat is definitely on board with this, since mere dampness can be cause for dismay if it comes in contact with feline paws. While dirt is just part of life for most dogs not many love having their paws cleaned before they're allowed to come into the house. Especially if they're being scolded for getting muddy and tracking in grass clippings and other lawn debris. It's not like they can take off their shoes as we do. Artificial turf gets the woof/meow of approval because it doesn't make mud or mess.
Digging holes becomes history because they can't. With natural grass dogs and cats can scratch through the turf in no time, leaving behind ugly dead patches, holes to trip up unsuspecting humans, and more yard repair work for you.  And……no more noisy four-wheeled monsters to fear while you work endlessly to mow grass that doesn't grow evenly whttps://onelawn.com/cost-advantages-of-onelawn-synthetic-grass-lawns/hile the noise scares the fur off your poor fur baby.
Your pets can forget what a disappointment life used to be when the lawn was natural grass.  Every time poor Fluffy or Fido wanted some serious me-time with you, their human chose – chose! – to mow instead of throw the ball or dangle a catnip mouse. Now that they aren't tied down with all that dumb lawn maintenance stuff, they can finally get their priorities straight. Let's play!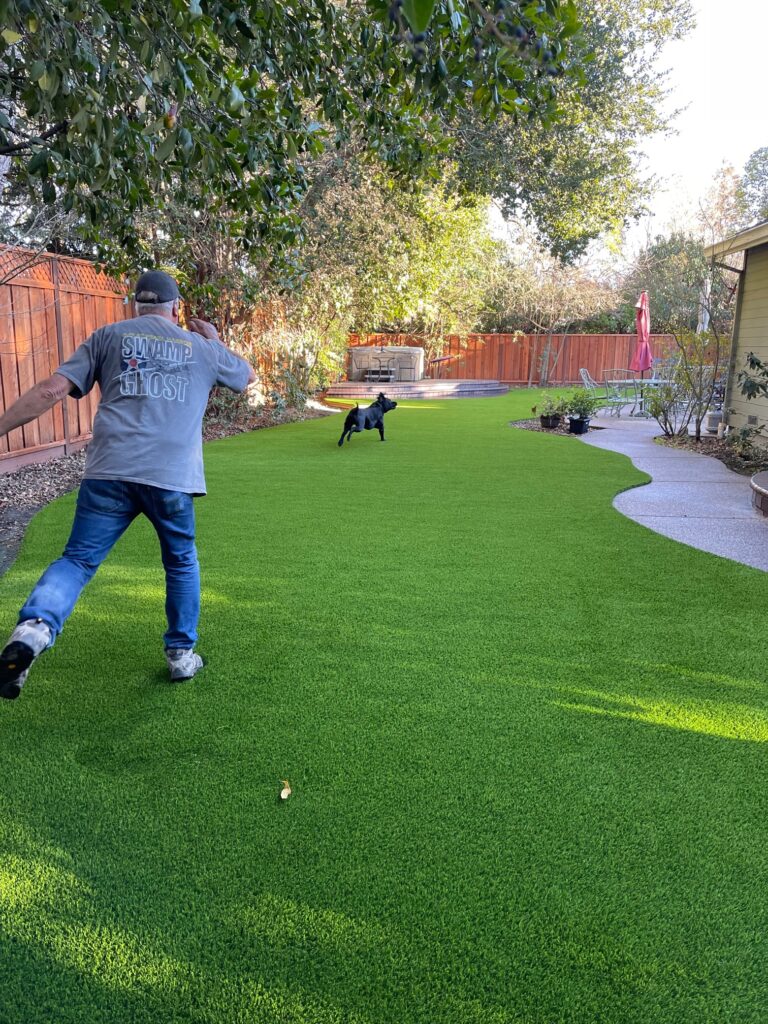 There's a lot more to know about why pets love artificial grass.  If you still have questions, give us a call to set up a free consultation to replace your natural grass lawn with an artificial turf lawn that gives endless hours of enjoyment and play for all.
And now …………………. A nap!