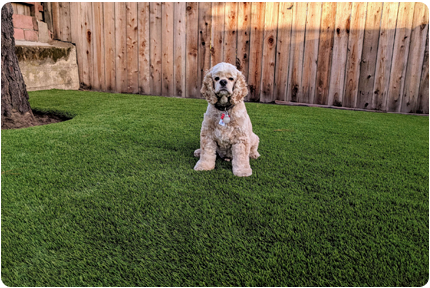 Animals can be tough on natural grass, pounding it to dirt or mud. onelawn® delivers everything you need for a safe, clean, long-lasting turf. Our team of professionals will ensure you get the perfect product, installation and maintenance schedule to keep your pet's area looking and smelling great for years to come.
onelawn® pet turf is a low-maintenance alternative to natural grass that provides a safe, mud-free playing surface with less downtime due to bad weather.  It eliminates the need for harmful fertilizers and insecticides while minimizing your pet's exposure to pests and allergens.  Plus, it stays green all year round.

Specifically Designed Synthetic Turf
With its innovative TruFlo backing, unique infill system and proven odor treatment, onelawn® pet turf is quickly becoming the leading artificial grass for dogs in the bay area.

Turf Made Specifically for Pets
– Short, dense fibers in natural-looking colors
– Anti-microbial blades to reduce bacteria growth
– Heat Block and Shine Block for added realism and safety


Fast-Draining TruFlo Backing
– Drains faster and cleaner than natural grass
– 100% permeable with zero absorption
– Allows liquids to flow through at rates over 400 inches per hour

Tile Subsurface for Maximum Drainage
Installing the tile layer provides drainage features not available with other artificial grass systems. With this 3/4" lift under the turf, liquid can drain away quickly and completely. The drain tile provides airflow under the turf and a cleaner drainage path for waste and flushing.


Unique Infill System
Envirofill is a non-toxic, non-flammable infill that stays cooler and lasts longer than other infill materials. Infused with Microban® antimicrobial technology, Envirofill inhibits the growth of bacteria, mold and mildew that can cause stains, odors, and product deterioration.