HOW TO CLEAN YOUR NEW ARTIFICIAL TURF LAWN
Whether you currently have OneLawn artificial grass on your property or are considering installing fake turf around your home, you'll need to know how to maintain your artificial grass properly to ensure it performs well over the long term and remains in optimal aesthetic condition.
Although fake grass requires far less maintenance than a live lawn, periodic cleaning will aid in preserving the beauty of your lawn. If you're unsure of the best way to clean your artificial turf, read on to gain knowledge of the helpful tips you need to know.
– CLEANING FREQUENCY FOR ARTIFICIAL TURF
Ensure that you clean your fake grass on a routine schedule. If your turf sees plenty of foot traffic and heavy use, it's in your best interest to clean it weekly to illuminate any dust, dirt, and debris accumulation. If you allow your pets to relieve themselves on your artificial turf, you'll need to clean it more frequently to keep your lawn sanitary and avoid harsh odors. However, if your turf is more of an aesthetic installation and doesn't see considerable traffic, you can probably get away with bi-weekly or monthly cleaning sessions.
– REMOVE DUST, DIRT, AND YARD DEBRIS
If your artificial grass doesn't see much traffic, you can remove accumulated dirt and debris with just your garden hose. Simply give your turf a gentle spray with clean, cool water and allow it to air dry. It's also a good idea to use a lawn rake or stiff broom to give the turf a good sweep, which will help keep the blades of grass in their upright position.  Avoid harsh blowing air machines as those can dislodge the infill material. Remember not to place any device with a hot motor on the artificial turf to avoid possible burns to the material.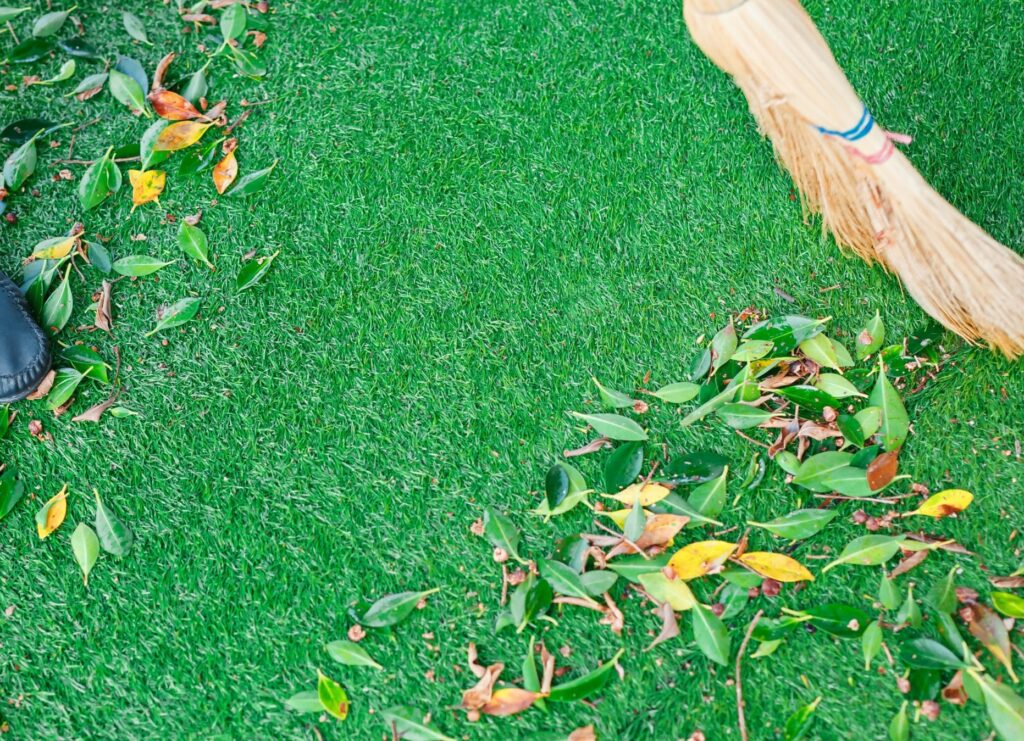 – REMOVING MINOR STAINS
Artificial grass is designed to be lived on, so don't panic if you accidentally spill beverages, food, or other substances on your fake turf. Getting mild stains out of your artificial lawn is remarkably easy — simply blot up the spill and wet the area with a hose. Once the grass is damp, apply a mild soap, give it a gentle scrub, and rinse it thoroughly with cool water.
– STUBBORN STAIN REMOVAL
Artificial grass is largely stain-resistant, so even if your turf develops what looks like stubborn staining, you shouldn't have a tough time removing the residue. To clean up stubborn stains on your fake grass take the following steps:
– Wet the area with a garden hose.
– Apply a mild detergent and use a bristle brush to gently lift the stain from the grass.
– Rinse the detergent away with a garden hose.
– If the stain doesn't respond to mild detergent, you'll need to apply a more heavy-duty cleaner like ammonia. If that doesn't work, try using a mixture of baking soda & apple cider vinegar, and make sure you thoroughly rinse off the cleaner when you're done.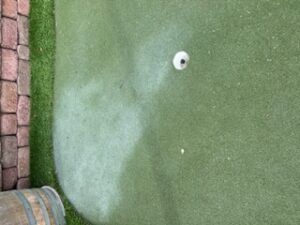 – REMOVING STICKY RESIDUE FROM FAKE GRASS
If tree sap, gum, or other sticky substances get stuck in your artificial turf, cleaning up sticky residue is remarkably simple. Just wet the area with your garden hose and apply a mild cleaner or 50-50 mix of white vinegar and water to dissolve the residue. Gently scrub with a bristle brush, and when you're finished, rinse the cleaner off with your garden hose.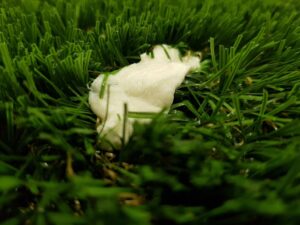 – CLEANING PET WASTE OFF ARTIFICIAL TURF
If you have pets that relieve themselves on your fake grass, clean-up is pretty simple. Wait until any solid waste dries completely, and proceed with the following steps:
– Pick up the waste using a scooper, bag, or whatever you'd normally use to pick up pet waste on a live lawn.
– Rinse the area thoroughly with your garden hose. Avoid using a pressure washer as it can damage the turf.
– Spray all areas where your pets relieve themselves weekly. You can use a standard household cleaner or a mixture of white vinegar/water for this job.
– Use a stiff-bristled brush to give the turf a gentle scrub.
– Rinse off the cleaner with your garden hose.
– Apply an odor neutralizer to eliminate any remaining foul scents.
– Allow the turf to air dry.
If you're considering installing artificial grass to cut down on lawn maintenance, our team at OneLawn would love to help you out! Whether you're looking for fake grass for your home or a commercial property, we can help.  We serve the Bay Area and have proudly delivered top-notch fake grass installation since 2008. To learn more about our services or discuss your artificial turf needs, feel free to give us a call today at 650-877-7770 or request a free estimate, and we'll be in touch promptly.