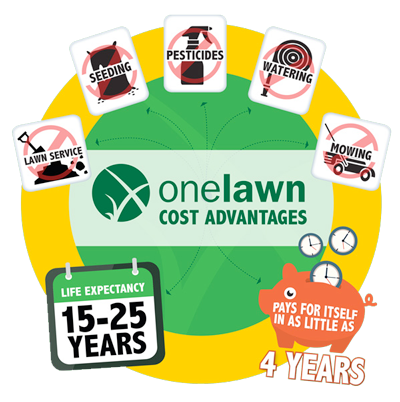 Installing a synthetic lawn from onelawn® is an investment that pays for itself!
While the initial cost of installing a new synthetic grass lawn is more expensive than re-sodding your yard, a sod lawn has recurring costs (watering, fertilizer, gas for mowing, aeration, seeding, a gardening/landscaping service, etc.), while the artificial lawn requires minimal ongoing maintenance.
Let's talk about return on investment. If you install a new sod lawn today, you'll have no guarantee after it's installed, watered and fertilized, that it will stay green through the summer. onelawn® synthetic grass will always be green and beautiful!
By installing a new synthetic lawn rather than a new sod lawn, you will see a return on your investment in as little as 4 years.
Many San Francisco Bay Area municipal water districts are offering valuable rebates to homeowners who choose traditional sod alternatives. Save money by installing a onelawn® synthetic Lawn!
Flexible Financing Options
onelawn's goal is to make the purchasing process as painless as possible. That's why we offer flexible financing options that can be tailored to your budget.  Learn about available financing options.