At onelawn®, we believe your golf green design and installation process should be a seamless, hassle-free experience. Our putting green installation team has extensive experience and a deep understanding of the game of golf.  We guarantee open communication from start to finish to ensure complete satisfaction with no surprises.



Short Game Systems

With the performance of a natural bent grass putting surface, Short Game Greens provide golfers with the opportunity to improve every aspect of their short game. Learn more about our Short Game Greens.
– Natural Reaction – Receives shots from any distance
– Putting Surface – Smooth & Consistent
– Roll Speeds – Varying from 9-12 on the stimpmeter
– Maintenance – Optimal performance requires brushing, top dressing, and rolling the green 2-3 times per year.

Putting Green Systems
Putting Green Systems are designed primarily for putting practice and simulate the look, feel, and performance of natural grass putting greens. Putts roll true and at an even pace across these surfaces. Learn more about our Outdoor Putting Greens and Indoor Putting Greens.
– Natural Reaction – Receives shots from less than 30 yards
– Putting Surface – Smoothest surface available
– Roll Speeds – Varying from 9-12 on the stimpmeter
– Low Maintenance – Keep your putting green surface clear of debris and seedlings as needed.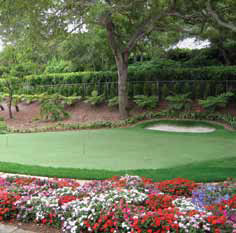 Sure Putt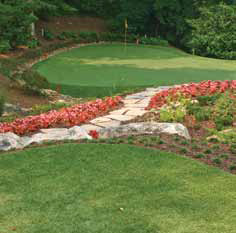 Bent Grass
Nylon Putt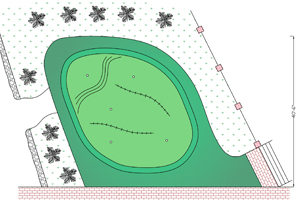 Working with our in-house team and designers, we can develop professional plans tailored to your space and goals. We can then provide designs and renderings done to scale to allow you to see how the green will look in your backyard.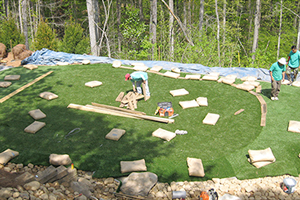 onelawn® installation teams are professional and polite. We are also golf specialists and take pride in creating your ideal practice green. We'll arrive on site prepared to create your facility exactly as designed with the ability to make adjustments based on conditions and your input. This flexibility assures you get a green you love without compromise. After your facility is complete, we'll review every detail of the final product with you.