Looking to Enhance the Appeal of Your Home? Discover how Artificial Grass can Elevate your Backyard's Aesthetics.
If you're seeking a hassle-free way to add some greenery to your home, consider the many benefits of artificial grass. It requires minimal maintenance, offers practicality, and can be utilized in various areas of your yard.
JUST LIKE NATURAL GRASS WITHOUT THE HEADACHES
Experience the beauty of natural grass without the hassles by opting for artificial turf. With its lifelike appearance, you'll hardly notice the difference. The best part? Artificial grass requires minimal upkeep, eliminating the need for mowing or trimming. Say goodbye to fertilizers, herbicides, and pesticides commonly associated with natural lawns, reducing the risk of toxic exposure for your family.
Rain or shine, artificial grass remains resilient. Its advanced drainage system ensures quick-drying, leaving no room for wetness. Plus, you'll bid farewell to muddy footprints, as artificial grass keeps your surroundings clean and dirt-free.
Unlock the potential of artificial turf and transform your home into a vibrant and enjoyable space. Allow these inspiring ideas to fuel your creativity:
MINI SPORTS FIELD
Bring the thrill of sports right to your backyard with a mini sports field. Whether your children enjoy football, baseball, or soccer, creating a scaled-down version of a playing field is simple and enjoyable. By installing artificial grass, you provide the perfect foundation for their sporting activities. Complete the setup with nets and other necessary sports equipment, and watch as your backyard transforms into an exciting sports arena. Let the games begin!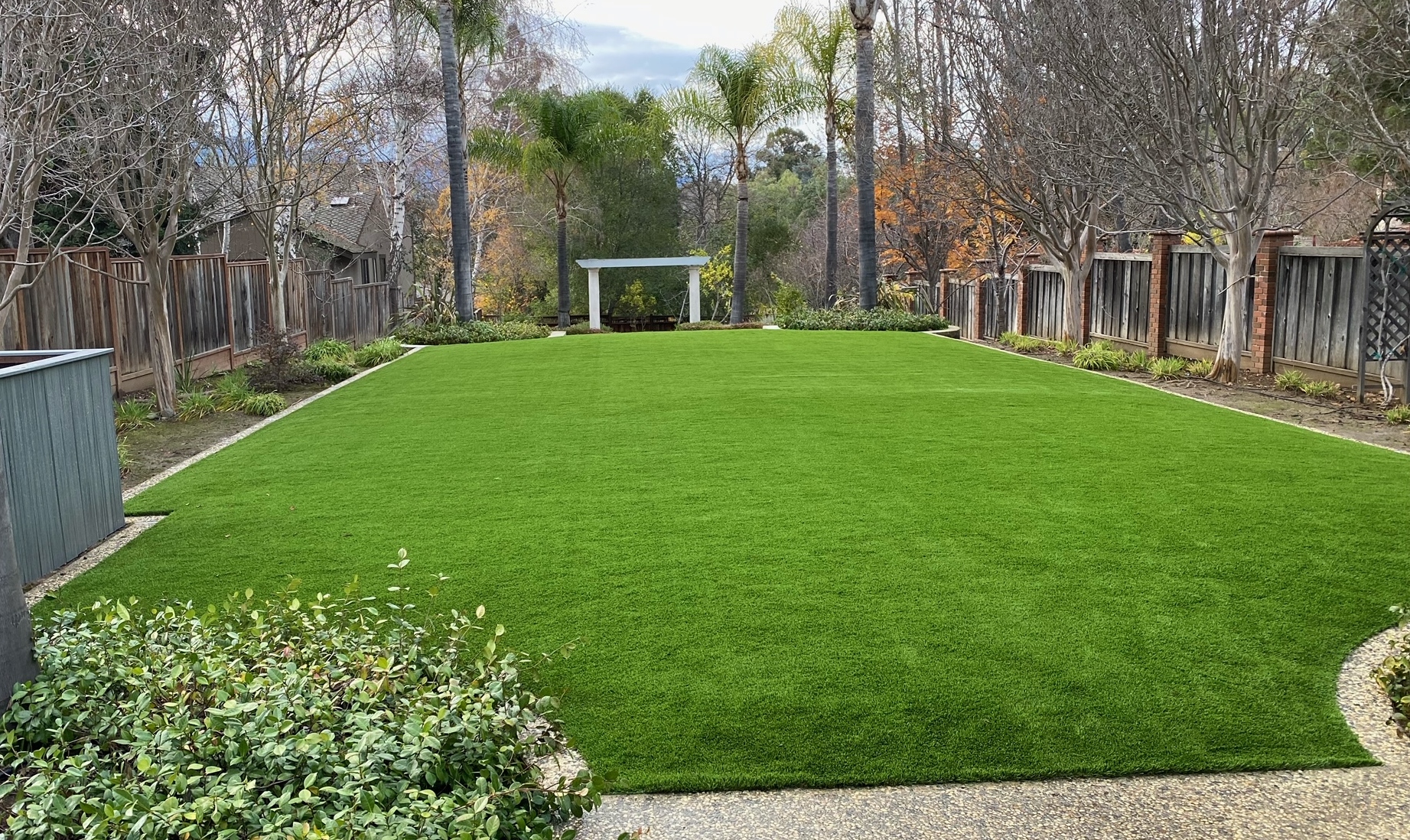 GARDEN
Achieve a garden to be proud of without relying on natural grass. Enhance the beauty of your outdoor space by incorporating potted plants to create a lush ambiance. Extend the greenery from your lawn to your pathway by seamlessly integrating artificial turf between your pavers. This innovative approach combines the charm of a garden with the convenience and aesthetics of synthetic turf, allowing you to enjoy a stunning landscape that requires minimal maintenance. Embrace the possibilities and elevate your garden's allure.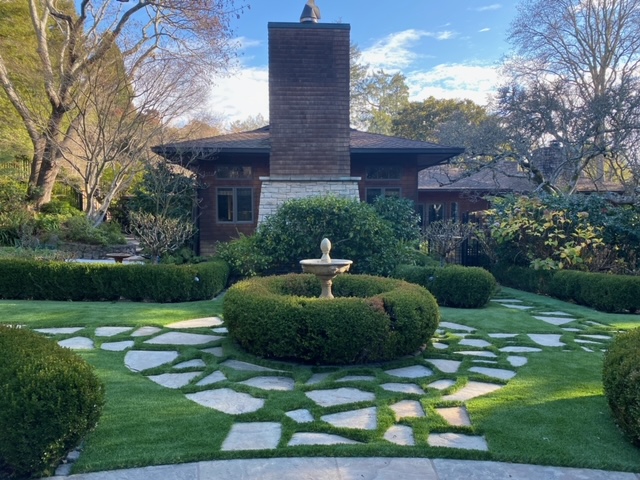 POOL AREAS
Say goodbye to dirty and muddy feet after a refreshing dip in the pool by opting for artificial grass as a surround. Unlike natural grass, synthetic turf ensures your feet stay clean and free from debris when you step out of the water. Moreover, the soft texture of artificial grass adds an extra layer of comfort, making it a delightful experience to walk barefoot. Enjoy the benefits of cleanliness and gentle sensation as you enhance your poolside oasis with artificial grass.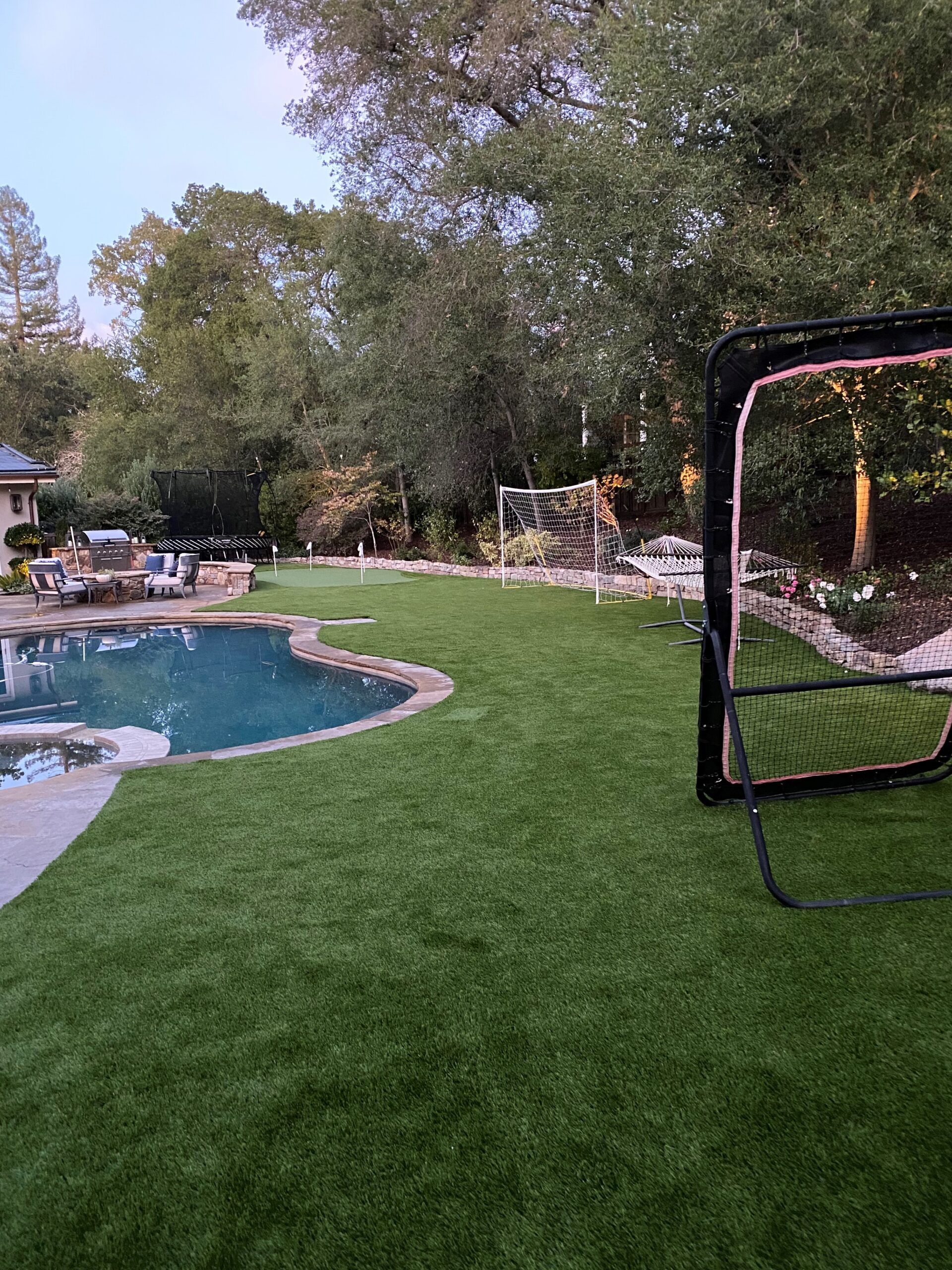 Explore these creative suggestions for incorporating artificial grass into your lawn. Additionally, consider a free consultation with our designers for further inspiration tailored to your backyard. With their expertise, you can unlock the potential of a lush landscape without burdensome maintenance. Embrace the opportunity to achieve the beautiful outdoor space you've always desired, headache and hassle-free.