How to Read a Product Spec Sheet
Congratulations on your choice to invest in artificial grass! By opting for the most environmentally friendly and cost-effective landscaping solution available today, you might encounter some technical aspects when selecting the perfect artificial turf. But don't worry, OneLawn is here to assist you in deciphering those intricate specification sheets accompanying all our cutting-edge synthetic grass products. We're dedicated to helping you make the optimal decision for your synthetic turf requirements.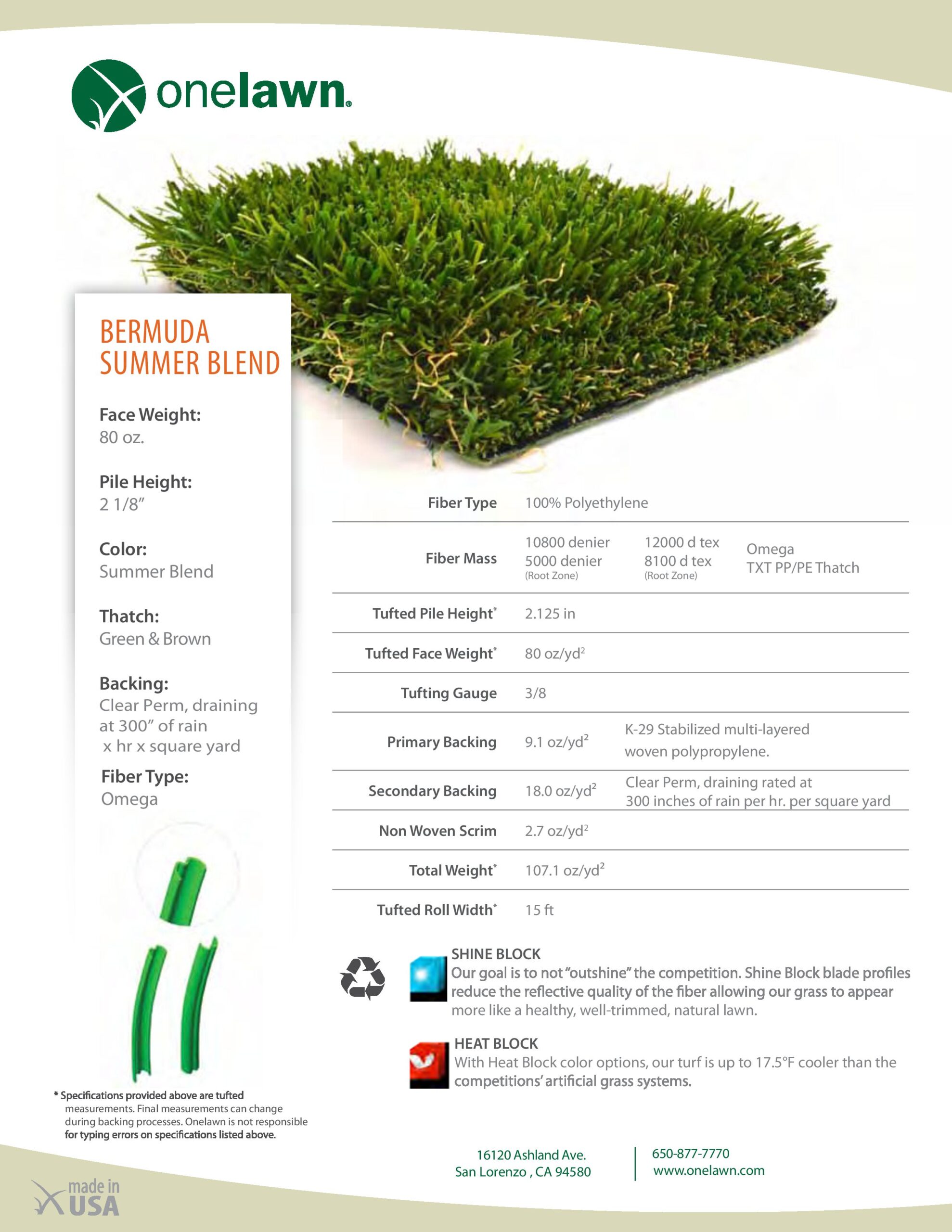 What is a Spec Sheet?
Spec sheets have all the information you need to know about any artificial turf product – they're designed to provide you with a wealth of technical knowledge to ensure you're buying the right synthetic grass for your home or business application. However, if you're not familiar with turf terminology, reading a spec sheet can be as confusing as reading another language; that's why we've compiled a list of terms you need to know to help you make the most informed decision.
Yarn Characteristics
This section gives you all the details on what your artificial turf's yarn is made of. Yarn characteristics provide information on specifications, such as:
Yarn type: Details of the type of thread used to manufacture the artificial turf's blades. Monofilament is the most common type of yarn usually found in this section.
Composition: Exactly as it sounds – here, you'll find details about what the artificial turf is made of. Polyethylene and nylon are the two materials you'll see in this section the most.
Denier: The unit of measurement used to determine the linear mass density of synthetic turf fibers.
Colors: In most cases, this section will have a shade of green. You'll often find popular colors such as field green, olive green, and lime green.
Turf Characteristics
Here is where you'll find information on what makes the overall artificial turf look so good! On your spec sheet, you'll see the following turf characteristics:
Pile/Face weight: The weight of the artificial grass fibers, not including the backing underneath – this is weighed in ounces per square yard. A general rule of thumb to consider, the greater the face weight, the denser your product will be.
Pile height: How the length of artificial turf fibers is measured, typically in inches. Shorter pile heights are better suited for heavy-traffic landscaping to prevent matting, whereas longer pile heights are for light to moderate traffic.
Gauge: The distance between rows of stitching in artificial grass. An ideal gauge is usually ½ inch or less, depending on the synthetic turf's weight.
Thatch: A textured type of yarn placed below the face yarn designed to enhance recovery after use. Thatch colors normally come in a shade of brown.
Backing Characteristics
The backing is what gives artificial grass the support it needs to keep its tufts secure. Backing characteristics on your spec sheet include composition, weight, finish coating (usually polyurethane), and tuft bind – the amount of force needed to pull tufted blades out of the backing.
Manufactured Rolls
Possibly the most straightforward specification, here is where you'll find information regarding the roll of artificial grass you're buying. Specs include width, length, shipping weight, and the diameter of the roll.
Additional Information
Your spec sheet will have some extra facts that are important to know about your artificial turf, including:
Recommended maintenance: Instructions on how to keep your synthetic grass looking as good as the day it was installed.
Drainage rate: Statistics that tell you how much rain and water your artificial grass can drain per hour per square yard, keeping your synthetic turf dry.
Environmental information: This can include the manufacturer's lead-free certification and proof of non-toxicity.
OneLawn can provide Spec Sheets on all of the materials we install.  Your free consultation with our designer will start the conversation about turf characteristics; however, if you require more information to increase your knowledge please ask for the Product Specification Sheet.